Labral Tear:
A hip labral tear involves tear in the ring of cartilage (labrum), that follows the outside rim of your hip joint socket. Besides cushioning the hip joint, the labrum acts like a rubber seal or gasket to help hold the ball at the top of your thigh bone.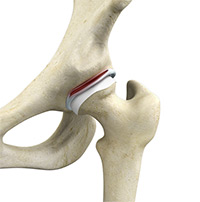 Causes:
Athletes who participate in sports such as hockey, football and golf are at higher risk of developing hip labral tears. Younger girls going for gymnastics or ballet dancing can also get affected.
Symptoms:
Pain in your hip or groin.
Stiffness or limited range of motion.
Management:
Non-Surgical:
Non steroidal anti inflammatory medication
Physiotherapist can teach you exercises to maximize hip range of motion, strength and stability.
Surgical:
If conservative treatment fails, your doctor might recommend an arthroscopic surgery.