Femoroacetabular impingement is a condition in which extra bone grows along one or both of the bones that form the hip joint, giving the bones an irregular shape.
Types: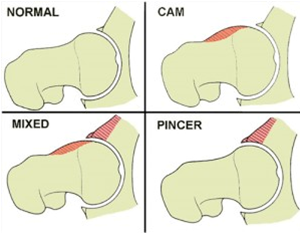 1.Pincer:
This occurs because extra bone extends out over the normal rim of the acetabulum.
2.Cam:
Here the femoral head is not round and cannot rotate smoothly inside the acetabulum.
3.Combined:
Combined impingement means that both the pincer and cam types are present.
Symptoms:
Management:
Non-surgical:
Activity changes
Non-steroidal anti inflammatory medication
Physiotherapy
Surgical:
If conservative management fails, your doctor may recommend arthroscopy.